Photo courtesy of HBOWatch.
By Terrance Turner
June 1, 2020
This recap contains spoilers.
On "Lowkey Happy", last night's episode of Insecure, Lawrence (Jay Ellis) meets up with his ex Issa (Issa Rae) for drinks. He waits for her to show up, anxiously popping a breath mint. Issa arrives and quickly takes a nasty fall onto the club floor. Once she recovers, she joins him at the bar, and Lawrence orders what he thinks is her favorite drink — prosecco, with a splash of whiskey.
"That's actually not my drink anymore," Issa corrects him. Now it's prosecco with a splash of vodka. "Let the record show: I've changed," she tells Lawrence. (She has.) Lawrence apologizes for missing the block party that Issa organized and tells Issa he was in San Francisco for job interviews. "I just don't wanna be afraid to move on," he tells her.
"I heard about you and Condola," Issa says, referencing his recent breakup. "I'm sorry."
"We don't gotta talk about that," Lawrence interjects. He quickly changes the subject. "You know, I ran into Molly at the airport," Lawrence says. "It was awkward."
"That's probably because we're not friends anymore," Issa says flatly.
At first, Lawrence laughs, taking the comment as a joke. It slowly dawns on him that Issa isn't kidding. "For real?" he asks.
"Yeah," Issa confirms. "We don't speak."
"Wow. I can't imagine you and Molly not [being friends]," Lawrence says, as Lizzo's "Truth Hurts" begins playing. More people start to crowd into the bar and dance.
"What happened?" Lawrence asks.
"We don't have to get into it," Issa says tersely. "But you had something you wanted to talk to me about? What is it?"
The answer doesn't come — they're interrupted by a man ordering drinks in the increasingly crowded bar. They instead decide to meet at another place. Their Uber driver mistakes them for a couple, asking if they're married.
"I tried," Lawrence says. "I bought a ring." Issa is caught off guard by this revelation, which she didn't know about. Nor does she know what Lawrence needs to talk to her about. She tries to get answers at the Latin restaurant they go to next. But Lawrence stonewalls.
While they wait for a table, Lawrence sets a no-holds-barred agenda for the night: no walking on eggshells. No tiptoeing around sore subjects. "No eggshells," he orders. "We know each other too well for that." Issa accepts and presses Lawrence to say what he wanted to tell her. But his hesitance, and the arrival of the waiter, delay the big reveal.
They are further delayed by Lawrence's difficulty deciding what to order. Issa grows impatient and takes charge, ordering the meal for them. Issa adds a whiskey neat for Lawrence (she knows his preferred drink). Issa effortlessly rattles off the order with what Lawrence calls "impressive" skill.
"Impress me with what you want to tell me," Issa quips.
"I've been thinking about us," Lawrence confesses, "and what would've happened if we stayed together. Sometimes I wonder, like, do I give up too easily on things?"
"It might be obvious," Issa says, "but I do wish you hadn't given up on us."
They talk candidly about Lawrence's slide into depression and unemployment towards the end of their five-year relationship. And Lawrence gets some clarity on Issa's infidelity: her Season One affair with Daniel (Y'lan Noel) torpedoed the relationship for good. "Why Daniel?" he asks pointedly. "Or could it have been anyone?"
"No, not anyone," Issa answers. She explains: "He just popped up and gave me attention, during a time when you weren't. And it's not an excuse, but… it just felt good to feel wanted, I guess."
"Things were that bad between us?" Lawrence asks. (Obviously, yes.)
"Sometimes I used to drive around after work just to avoid coming home," Issa reveals. "But I still wanted to be with you, not him. I just had a moment of weakness." She later adds: "For an entire year, nothing I did could snap you out of what you were going through. You didn't want to talk; you didn't want to go out; you didn't want to have sex. You didn't want me, Lawrence."
"It's not that I didn't want you," Lawrence replies. "Just watching you get up and go to work was this daily reminder that I [had] nowhere to go. Nothing to do. And I thought about moving back home, but I know that would have just made me feel worse." It's a raw, honest, adult conversation that answers lingering questions.
The rest of the night unfolds like a date — witty banter and warm ribbing, unforced chemistry and easy conversation. The two visit the Art Walk in downtown L.A., and Issa reveals that she's working on creating happiness for herself. "I've been waiting around, waiting for other stuff to make me happy," she explains, "and I think that s–t is a choice." She turns to Lawrence. "What about you? Are you happy?"
"Yeah, I think I'm getting there," Lawrence answers. "I would say I'm pretty happy right now."
Lawrence gets a call from Condola, who's been calling/texting him all night. But he ignores it. "We've been talking, but I don't know," he tells Issa. "I'm not really sure what's gonna happen between us." That future becomes even more uncertain once Issa learns that Lawrence lives nearby.
Lawrence decides to show Issa his new apartment. Inside, she realizes that he still has their old couch. Issa asks if she can use the bathroom before she returns to the Lyft still waiting outside. While she's gone, Lawrence goes outside and discreetly calls Condola back. "Sorry I didn't get back to you," he tells her. "I can still try to make it tonight. I'll keep you posted." But when Issa emerges from the bathroom, she realizes instantly what's up.
"She wants to talk," Lawrence explains. Issa takes the hint and starts to leave. But she stops at the door.
"What if I wanted to stay?" she asks. "I'm not ready for the night to end yet."
"Tonight made me happy," Lawrence admits.
"You make me happy," Issa confesses.
"So…stay."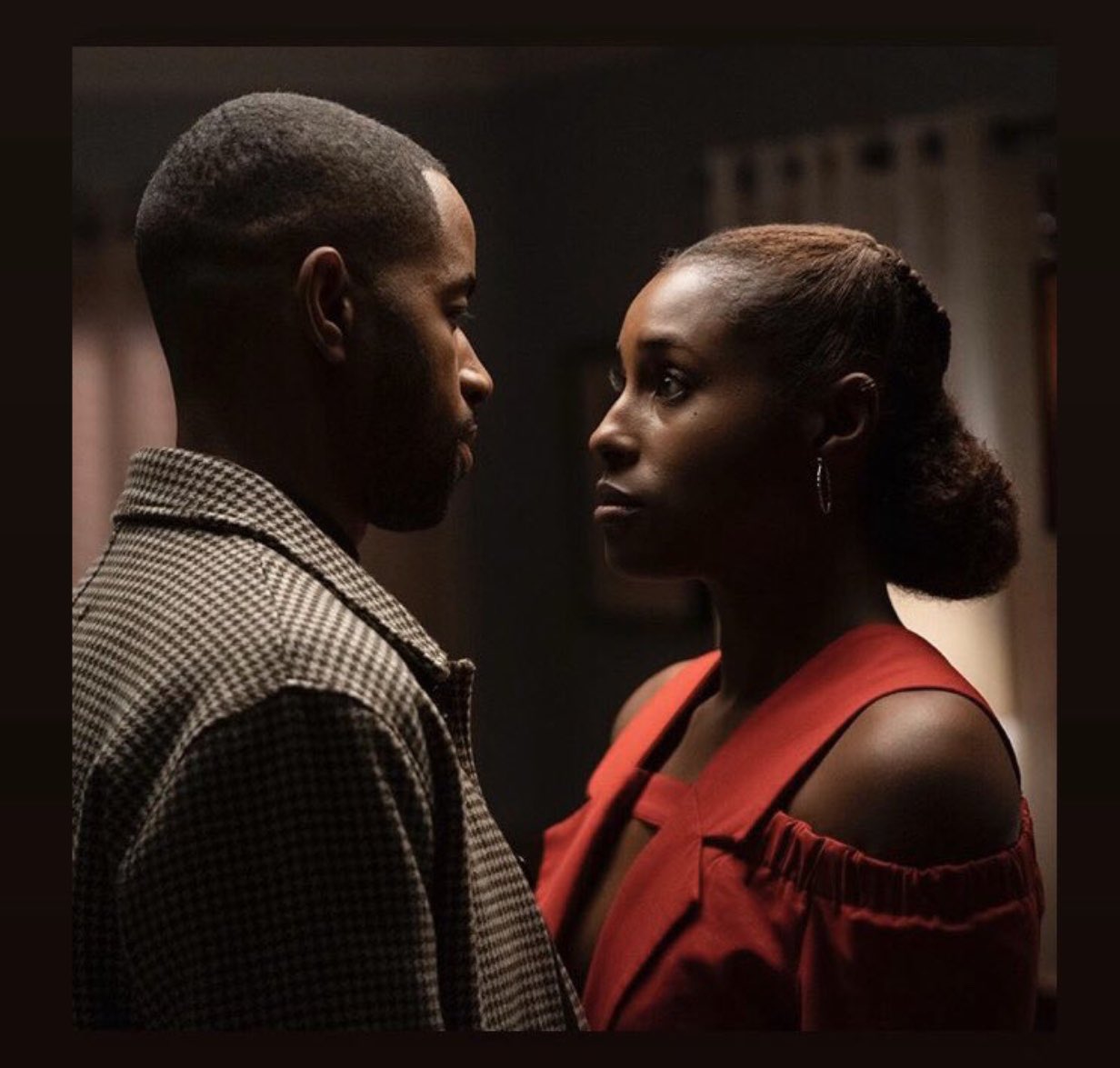 This episode comes after what's been a brutal week, especially for black people. Protests of George Floyd's death at the hands of Derek Chauvin continue to rock the country. In L.A., where the show is set and filmed, a weekend of protests turned violent. California Governor Gavin Newsom declared a state of emergency in the city and county of Los Angeles just before midnight Saturday, amid looting and freeway closures.
Nearly 1,200 protesters were arrested in Los Angeles County on Sunday. Los Angeles Police Chief Michel Moore told KTLA-TV that 700 people were arrested in the city of L.A. on Sunday. Los Angeles' 6 pm curfew will last until 6 am Tuesday. According to the Los Angeles Times, "More than 400 people were arrested in Santa Monica on suspicion of crimes that included looting, burglary, assault with a deadly weapon, assault on a police officer and curfew violations."
Insecure actor Kendrick Sampson, who plays Nathan on the show, was hit by seven rubber bullets yesterday while protesting in L.A.
Cast member Natasha Rothwell, who wrote the episode and plays Kelli on the series, acknowledged the unrest across the country. She wrote on Twitter:
For this black man — angered by the killing of George Floyd, weary of both police violence and its news coverage — last night's episode was like manna.
Cinematographer Ava Berkofsky, who directed, presents magical visuals — the cloud exhibit, that stunning blue/red light display — that immerse us in the scene. Natasha Rothwell's masterful screenplay presents bracingly real reminders of why the couple failed: Issa's infidelity, Lawrence's stagnation. But her layered script also reminds us why these two worked in the first place: a shared sense of humor, natural conversation, lots of laughs. Jay Ellis and Issa Rae's beautifully naturalistic performances make everything feel achingly real. In a season of good episodes, this may be Insecure's all-time best.
June 3, 2020
I do not make the above statement lightly. For months, I have felt that the Season Two finale, "Hella Perspective", was a high-water mark that the show couldn't possibly top. After weeks of distance (and a bitter fight outside a restaurant in the previous episode), Issa and Lawrence finally had the bracing, vulnerable, heart-tugging conversation that they'd needed to have all season. It was raw. It was real. It was glorious.
But "Lowkey Happy", I think, is even better. From the screenplay to the cinematography, even down to Rae and Ellis' terrific performances, this episode stood head and shoulders above many of its predecessors. And it came at a time when its dreamy, romantic vibes were desperately needed.
Throughout last weekend, I tried to unplug, to disconnect from the headlines that I'd lived in and written about throughout the week. But I still found myself drained and demoralized. Insecure brought me back to life. To see these two characters who obviously belong together (DON'T @ ME) FINALLY reconnect was great. But to see black people freely walking and talking, enjoying each other's company, slowly falling in love all over again — in the age of coronavirus and virulent racism — was sensational.
One of the actors apparently thought so, too. Ellis told Vulture: "I read this script the night before the table read, and it felt like closure. It felt like love. It felt like friendship. It felt like soul mates. It felt like our show is so universal. There were just so many things about it that were absolutely amazing. I remember turning to Natasha and telling her, 'I think you just wrote the most beautiful episode of this show ever'."
He's not wrong.