By Terrance Turner
Last night, a candlelight vigil was held for George Floyd at Jack Yates High School. Floyd graduated from Jack Yates in 1993; the vigil was held on the football field where he once played. Barely a stone's throw away are the Cuney Homes, a public housing project in which Floyd grew up. Hosted by the Jack Yates Alumni Association, the vigil began at 7:30 pm. It brought together Floyd's family, friends, and legal counsel. Several elected officials also made speeches at the event.
Houston City Council member Dr. Carolyn Evans Shabazz remembered Floyd fondly: "He never met a stranger or turned away someone in need, even when he didn't have it to give." She read a proclamation declaring today, June 9th, George Perry Floyd Day. (Shabazz herself graduated from Jack Yates, and she represents the Third Ward area as part of District D.)
HISD Superintendent Grenita Latham also spoke briefly. "To watch a black man be brutally murdered was brutal," she said. When she looked at the video of Floyd's death, "I saw my brother. I saw my cousins. I saw my students," Latham said. (Fitting, since Floyd was an HISD alum.) "To the family of George Floyd: I offer my condolences, my prayers, to know that we are with you. We're going to honor George; we're going to honor the family. But we're going to honor every child that we serve by ensuring that our staff members, starting with the board all the way down, are trained on how to work with children — especially children of color — and how to meet their needs. Once again, to the Jack Yates Alumni Association: thank you for this opportunity. God bless all of you. God bless our community, and God bless our school district. Thank you."
Floyd's teammates at Yates also made an appearance. One of them was Floyd's friend Von Dickerson, who remembered his friend vividly. "Thanks, everybody, for coming out and supporting my boy. My plight with Floyd was a little different than everybody else's, because we hung together every day. Every, every day. From him eating at my mother's house to eating hot meals to me going at his mother's house — they didn't have much to eat. Skipping school, being teenagers at Yates. Then the class of '90 led us through the hallways until we became grown men, to control the hallway. Man…" he paused for a minute, growing emotional.
"On this same football field right here, we started as freshmens. Then we got moved up to varsity with Gerald and the rest of the crew. Godfrey, Wallace… then we went to the freshman basketball, where we went 36-1. And then we went up to varsity basketball — which we were able to play a game right here at Hofheinz Pavilion, with the class of '90. And from there, we were three-year lettermen in football and basketball. In a lot of things we did, we bucked the system. Here at Yates, you couldn't sit on your helmets; we started that. I know the class of '85 would kill us. We didn't wear jerseys in practice, 'cause we knew we were 'the man'. We even got suspended one game, for changing a play. Coach McGowan and all the coaches took us in the office and he said: 'What the blah blah blah were y'all thinking?' And our exact words to Coach McGowan was that, 'Man, we're seniors. If we gon' lose, we gon' lose on our own terms'."
Dickerson voiced his support for the protesters. "But do it peacefully. He wasn't a violent dude," Dickerson said. "And pray for his family. They need it. They going through a lot right now. Everybody lost, confounded, trying to find a way. But again, once they bury my dude tomorrow, we need solidarity amongst all these lines: Class of 93, 87, 88, 89, 85, the eighties, down to the '60s and '70s. We still need you guys' support, because, again, the battle has just begun. If we stop supporting, one of us could be the next George Floyd. And we don't need to do no more vigils. We don't need to light no more candles."
The Floyd family attorney, Ben Crump, introduced George Floyd's brothers with thunderous remarks. He compelled those assembled to raise their fists in a display of black solidarity. "Put your fists in the sky! Get 'em up! Raise 'em high!" he yelled repeatedly, stirring up the crowd. "Put your fist in the sky! Get 'em up! Raise 'em high! Because George Floyd's life mattered. Black Lives Matter." He then introduced Floyd's brothers, Philonise and Rodney Floyd.
"How y'all doing out there?" Philonise Floyd asked as he addressed the crowd. "I just want to thank you for coming out here and supporting my brother." He remembered watching George play freshman and varsity high school football on the high school field. (Floyd played both basketball and football at Yates. As a tight end, Floyd's acrobatic end-zone catches helped lead his team to the 1992 5A state championship game, where they lost to number-one Temple.) Philonise Floyd expressed gratitude to the crowd and asked them to continue fighting for reform.
"I really love y'all for giving my brother this much support. Y'all could have been anywhere in the world, but y'all here with us right now. This is a blessing. And this is bigger than George right now. We're fixing to stop everybody from being afraid of the police. We have good police, but we have bad police. You can't sort them out, so we got to figure it out right now."
"So right now I want everybody to start voting — going to council meetings and everything — to get everything together, little by little. We get one step closer to everything we need in life. Hey, we can't just support, say we're going to support the president," Philonise Floyd said. "It's not just about the president; it's about what we have here. Because the president is the person over the military right now, we need [help] down here, and everything else expands from there. But I love y'all, like I just said; my brother is here with me, and…" He paused, trying to collect himself, as the audience began to applaud.
He led the crowd in a chant.
"Say his name!" he ordered the crowd.
"George Floyd!" the crowd yelled.
"What do we want?"
"JUSTICE."
Floyd's brother Rodney Floyd took the stage next. He spoke of how Floyd meant different things to different people. "I'm very happy y'all are honoring my brother," he said. "Yates know him as Floyd George cause he had two first names, so they put 'Floyd George' in the paper all the time. But it's originally George Floyd. Y'all know my brother as an athlete; some know him as Perry," he said. "But y'all know him as a football star. We knew him as the big bro. Stand-up man. A good, major influence in the community. Rapper. Good athlete. Good friend. Good brother, great man."
Rodney Floyd urged the 3rd Ward community to be more politically active. "We got to work on it. And a lot of us have these conversations to ourselves and friends, and honestly, to piggyback on what my brother said: you got to get out there, voting in the community. Get our face in the community. That's everybody as a whole," he said. "We've got to vote the local legislators in, find out, do our homework and background on them and what they're offering us, and demand what we need," he explained, "and let them know if they're right for us. 'Cause definitely we need to get the locals in, and the locals are the councilmen and councilwomen in our area. And we definitely need to do that. That way we can get a governor — and whoever else, in that order — on our side," he said. "We can change the policing and all that included, and then we got to educate ourselves…"
By 8:44 pm, candles were being passed out and lit; those who didn't have candles instead turned on the flashlights on their phones. A moment of silence was observed until 8:46 pm. The time symbolizes the eight minutes and 46 seconds that now-former officer Derek Chauvin had his knee on Floyd's neck.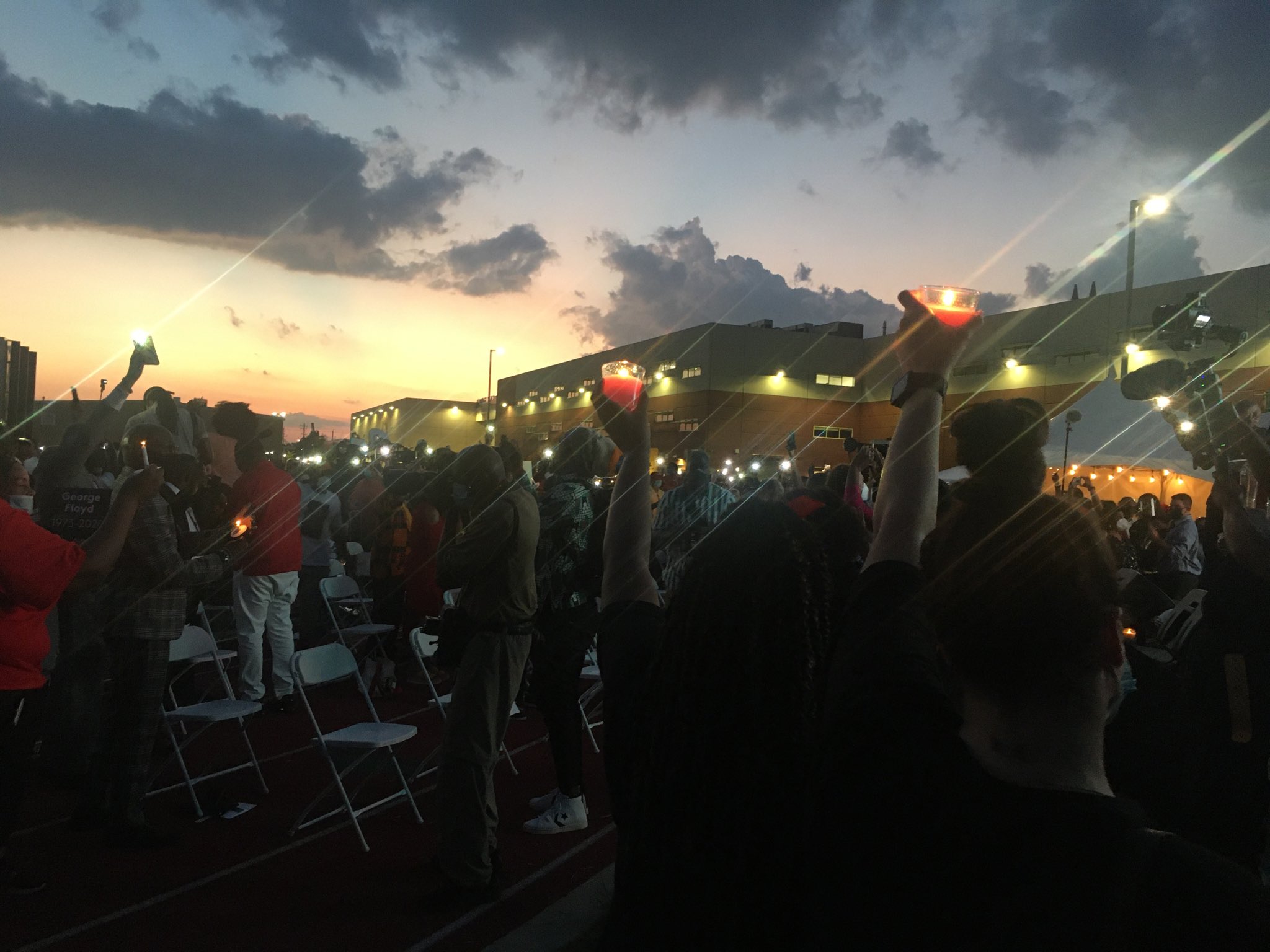 The vigil closed with prayer and a special announcement: a scholarship fund in Floyd's name has been established. The scholarship, which includes a $5,000 donation from Comcast, has been established for Yates High School seniors who hope to study mass communications in college. For more information on the scholarship, as well as how to donate, visit JackYatesAlumni.com.