By Terrance Turner
Today, 2,622 new cases of COVID-19 were confirmed in Texas. It's the highest one-day total the state has ever had. According to the Texas Department of Safety and Health Services, an additional 1,476 cases "were previously diagnosed among Texas Department of Criminal Justice inmates, but that had not been reported by local health departments." (Why?)
That makes for a total of 4,098 positive cases of COVID-19 since yesterday. Houston Chronicle reporter Jeremy Wallace wrote today that Texas is also reporting 46 deaths. That's the most since May 20. Total deaths from coronavirus in Texas now number over 2,000.
For five consecutive days, hospitalizations for COVID-19 have reached all-time highs, with each day topping the day before. Today, Texas reported 2,518 patients are in hospitals with lab-confirmed coronavirus. That's a leap of 192 since yesterday and up 67% (!!!) since Memorial Day. Wallace delivered the news earlier today on Twitter:
As usual, Harris County and Dallas County continue to lead the state in cases. They total 17,282 and 14,537, respectively, at press time. (Data from the Texas DSHS is preliminary and is subject to change.) Thankfully, there are still roughly 15,000 available hospital beds and around 1700 ICU beds, according to The Hill. But hospitalizations in Texas for COVID-19 have risen for six straight days and broken records for five.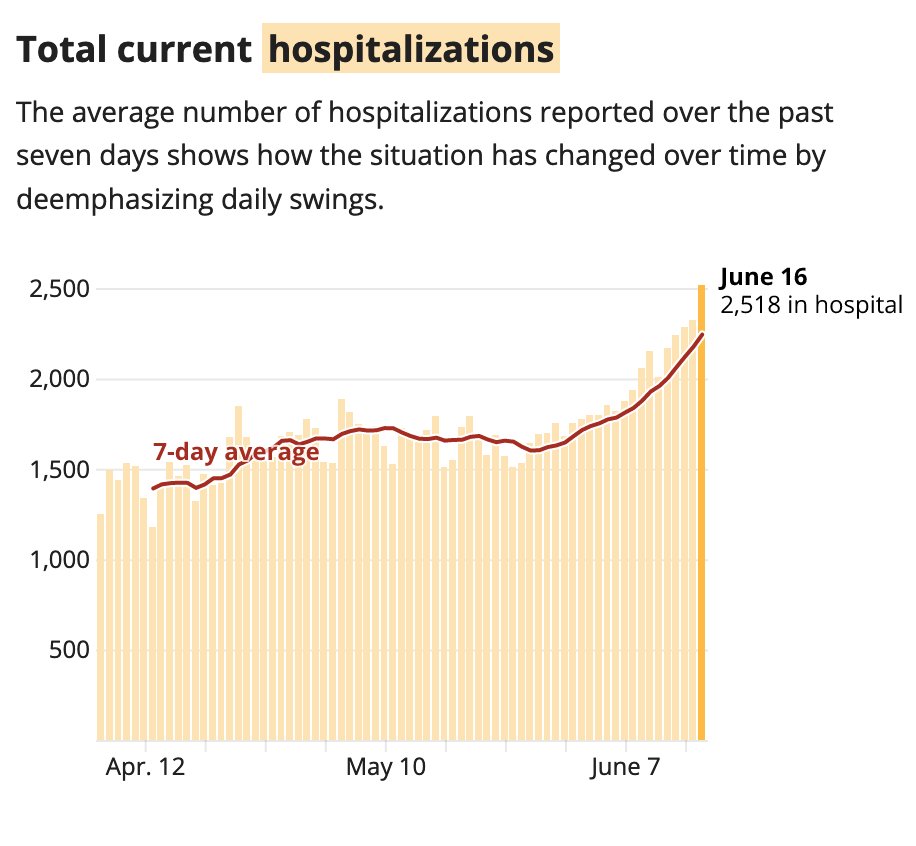 Dallas County reported 306 new COVID-19 cases and 8 deaths today, according to the Dallas Morning News. Hospitalizations are also increasing. (Speaking of hospitalizations, there's been a shooting at the Dallas Galleria Mall. At least one person has been shot. Dallas police spokeswoman Melinda Gutierrez told CNN that the suspect is still at large, but added: "This is not an active shooter.")
All of this is happening as Texas continues to reopen. Restaurants were allowed to open at 75% capacity last week, and on Friday, amusement parks will be allowed to open at 50% capacity — just like nearly every other business in Texas. Phase 3 of reopening began on June 3, a month after Phase 1 commenced on May 1.
But a growing trend is emerging in data: infections are rising among people under 30. Per the Texas Tribune, more 20-to-29-year-olds make up 24% of all cases and 8.3% of the hospitalizations in Travis County and the city of Austin. At a press conference on Tuesday, Gov. Greg Abbott said that in Lubbock County and Cameron County, a majority of new cases are in people under 30.
He suggested that the results were related to Memorial Day celebrations or bars, that "certain counties where a majority of the people who are testing positive … are under the age of 30, and this typically results from people going to bar-type settings." (Does he mean the very bars that he ordered to reopen on May 22?)
"It's hard to tell exactly where those people contracted COVID," Abbott said. "All we know is that because these people are testing positive at a higher rate who are age 30 and under, it informs us about certain strategies to take to make sure that we are able to reduce the number of people testing positive."
One strategy that he won't be using is ordering face masks. The mayors of Austin, Houston, Dallas, and San Antonio, along with five other cities, sent Abbott a letter yesterday. They're asking him to let these mayors require the use of face masks in their respective cities. But the governor rebuffed their requests. (His executive order bars Texas cities from issuing fines or jail time to those who violate the mask requirement.)