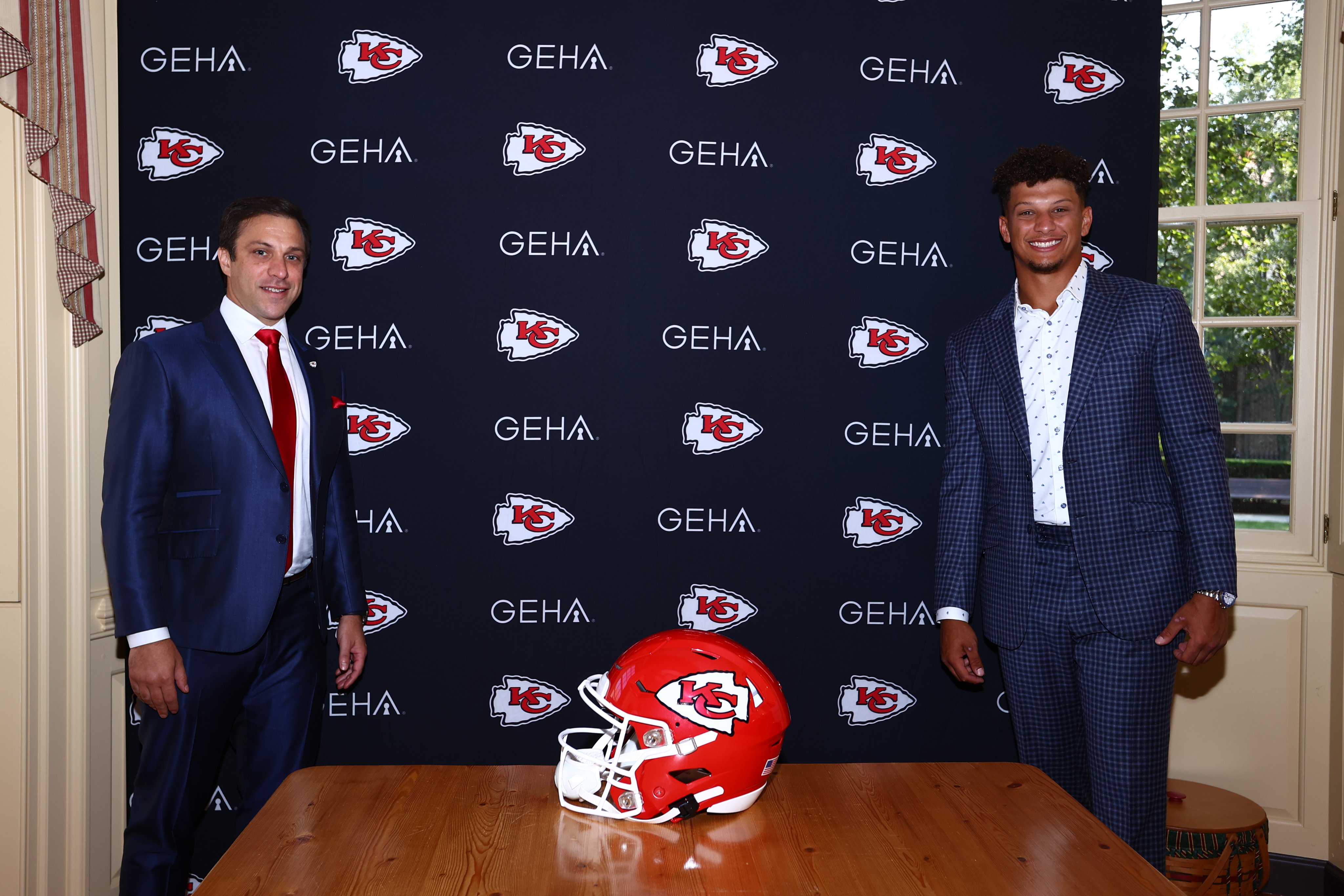 By Terrance Turner
It should come as no surprise that the Kansas City Chiefs have signed quarterback Patrick Mahomes to a contract extension. But the details of the arrangement are nothing short of astonishing. Per numerous sources (including NFL reporter Ian Rapoport), Mahomes' 10-year extension is worth $503 million — making it the largest contract in the history of sports.
According to Rapoport, this is the first time an NFL player has been the highest-paid in the world of sports. His NFL Network colleague Tom Pelissero added that Mahomes' deal comes with a $10 million signing bonus and a "roster bonus" that grows to $49.4 million by 2027. Pelissero added that Mahomes could earn up to $103 million by next March.
The Chiefs added 10 years to what was already a two-year contract for Mahomes, ensuring that he will remain a Chief through at least 2031. Accordingly, Mahomes tweeted "Here to stay", alongside a highlight video with captions by Mahomes. "Chiefs Kingdom, you've been with me since the beginning," he wrote. "You helped us overcome adversity to become Super Bowl champs. And we're staying together…for a long time. We're building a dynasty."
Mahomes, 24, has racked up 76 touchdowns and only 18 interceptions in three seasons as a Chief. After being named 2018 NFL MVP, he overcame a frightening midseason injury (a dislocated kneecap) and not only survived the 2019 season but helped power the Chiefs to a 12-4 record. Then he and the Chiefs battled other AFC standouts in the postseason. They overcame three straight double-digit deficits in the playoffs. After stunning the Texans in a come-from-behind win, they rallied to beat the Titans in the AFC Championship. (It was the first AFC Championship Game since 2010 not to include Tom Brady.)
You may recall that in February, the Chiefs won the Super Bowl in rather memorable fashion. Down 20-10 with only six minutes left, Mahomes rallied and led the team to score 21 unanswered points — including two touchdowns by running back Damien Williams. Mahomes, who is biracial, is only the third black quarterback ever to win a Super Bowl. His performance earned him the honor of being named Super Bowl MVP.
"This is a significant moment for our franchise and for the Chiefs Kingdom," Chiefs Chairman and CEO Clark Hunt said. "Since he joined the Chiefs just a few years ago, Patrick has developed into one of the most prolific athletes in all of sports. With his dynamic play and infectious personality, he is one of the most recognized and beloved figures to put on the Chiefs uniform. He's an extraordinary leader and a credit to the Kansas City community, and I'm delighted that he will be a member of the Chiefs for many years to come."
One of Mahomes' teammates put it more bluntly. Chiefs safety Tyrann Mathieu voiced approval of the deal. "The young man deserve it all," Mathieu wrote on Twitter. "One of the best I've been around. One of the greats." Mathieu previously played for the Houston Texans, whose quarterback Deshaun Watson may be in line for a payday of his own. Texans superstar defensive end J.J. Watt tagged Watson in a playful tweet today:
UPDATE: Mahomes is apparently making some money moves as the start of the season approaches. Today, news broke that Mahones is now a part owner of the Kansas City Royals. The baseball team is located in the very city for which he won the Super Bowl. That fact wasn't lost on the quarterback. "I'm honored to become a part owner of the Kansas City Royals," said Patrick Mahomes. "I love this city and the people of this great town. This opportunity allows me to deepen my roots in this community, which is something I'm excited to do."
After signing the largest-ever sports contract in history, Mahomes has made history again. This new deal makes Patrick Mahomes the youngest sports owner ever. NFL Insider Ian Rapoport reported the record-breaking development earlier this morning:
UPDATE: After the Chiefs went 2-0 in their first two games, Patrick Mahomes was named one of Time magazine's 100 Most Influential People of 2020. After praising Mahomes' athleticism and vision, author Derek Jeter lauded Mahomes' commitment to his teammates and coaches. "There is a lot more promise in Patrick Mahomes' future than just on-field accolades," Jeter wrote. "He already has started to build a legacy as one of the most impactful athletes of his generation, and I, for one, am excited to see what is next."