By Terrance Turner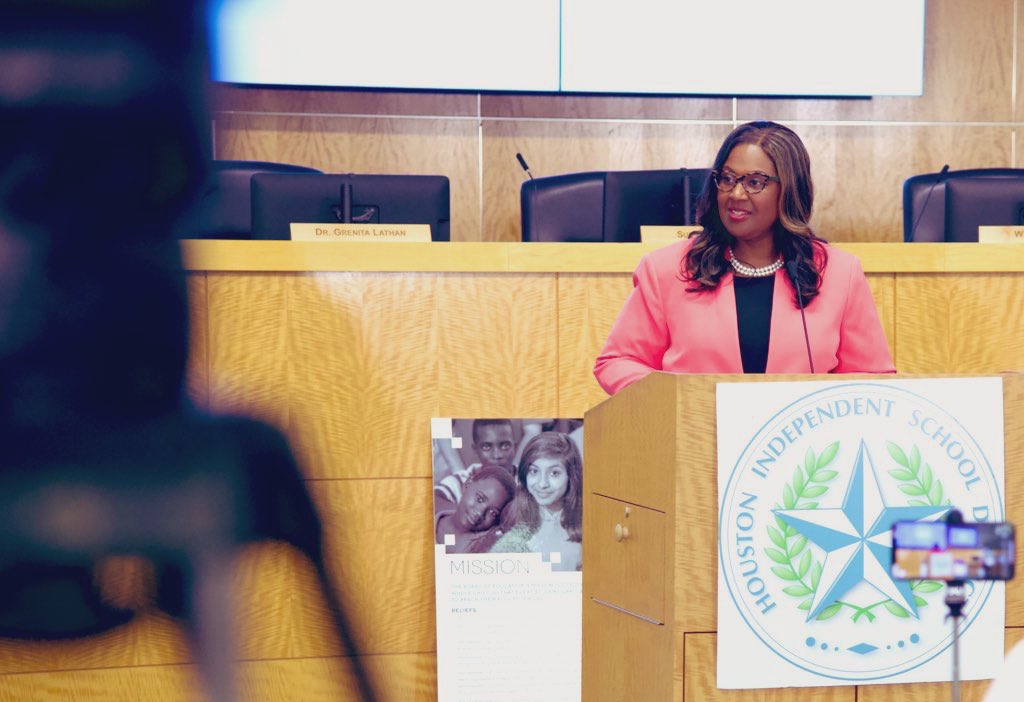 July 15, 2020
Today, HISD unveiled its new guidelines for the 2020-2021 school year. The guidelines were announced at a press conference by HISD Superintendent Grenita Lathan this afternoon. Lathan stressed that the coronavirus has affected her personally as a wife, mother, and leader of HISD. "I've had many sleepless nights, even up until this morning, wrestling with this decision," she said. Still, Lathan delivered a lucid and measured presentation of the news. She said that due to the rise of coronavirus cases in Texas — including dramatic rises in hospitalizations — this school year will be different.
The new HISD school year begins on Sept. 8. There will be only virtual learning until October 16. Then, on Monday, Oct. 19, face-to-face instruction will begin. Children will be able to return to school and be taught by live instructors. However, parents will have the choice to opt out of face-to-face instruction and have their children continue learning online at home. Teachers would deliver instruction via the Internet, computer software, or both.
The first semester of virtual learning runs from Sept. 8 to Jan. 29. Parents have until Aug. 24 to decide whether they want their child to do virtual learning for the entire semester. (Research director Michael van Beek says that in one form of virtual learning, teachers and students communicate via media like online video, online forums, e-mail and instant messaging. Other forms strictly deliver lessons via software.)
The news comes after a dramatic spike in new COVID-19 cases in Texas. Today, there were 10,457 positive cases reported in Texas — down slightly from yesterday's one-day high of 10,791. (That number beat Tuesday's record of 10,745.) There were also a record number of deaths today — 129, up from yesterday's single-day of 110. Hospitalizations from COVID-19 numbered 10,457 today. There were 14 more yesterday (10,471 total). Though hospitalizations in Texas have plateaued after Tuesday's record high of 10,569, they remain a trouble spot. The number of Texans in the hospital with coronavirus passed 10,000 on July 10 and has remained above that threshold every day this week.
The toll is getting heavier. In San Antonio, refrigerated trucks are being used because there's not enough space in the local morgues. In Bexar County, where San Antonio is located, only 10% of hospital beds are available, according to San Antonio Mayor Ron Nirenberg. (He says that "schools will not be opening at full speed in August" and that local guidelines could be ordered as soon as next week.)
In Houston, COVID-19 patients account for 45% of ICU beds. While hospitalization numbers seem to have stabilized, less than 10% of ICU beds in the state are available, per Austin affiliate KVUE. The ABC affiliate cited data from the Texas Department of State Health Services, revealing that only 949 ICU beds were available as of Tuesday.
In a reflection of this uncertainty, HISD announced back-to-school guidelines yesterday that allowed for virtual learning. That will likely be a relief for teachers still uneasy about returning to the classroom. The Houston Independent School District said a recent survey showed only 14% of teachers said they felt safe returning to campus.