By Terrance Turner
It might be over for Kanye West and wife Kim Kardashian West.
After breaking down at a campaign rally on Sunday, West said he and his wife had considered abortion when expecting their daughter North. The revelation made headlines and reportedly caught Mrs. West off guard. But between late Monday night and Tuesday morning, West upped the ante with some explosive tweets.
"Kim was trying to fly out to Wyoming with a doctor to get me locked up like in the movie Get Out," the rapper tweeted late Monday, before claiming that the movie is actually about him. "Kim tried to bring a doctor to lock me up with a doctor," he tweeted. (Mrs. West has been consulting with doctors and has been trying to get Kanye help "for weeks", per People.)
Late Tuesday night, he went even further: "I've been trying to get divorced since Kim met with Meek at the Waldorff [sic] for 'prison reform'." He praised Meek — "Meek was respectful. That's my dog" — but claimed, "Kim was out of line". She was out of line, he said — a day after he told the world that he and his wife had considered aborting their firstborn child. (Editor's note: Kim K and Meek Mill met publicly at a restaurant in November 2018. They were joined by philanthropist Clara Wu Tsai, according to Complex. Mrs. West left the restaurant immediately after the meeting.)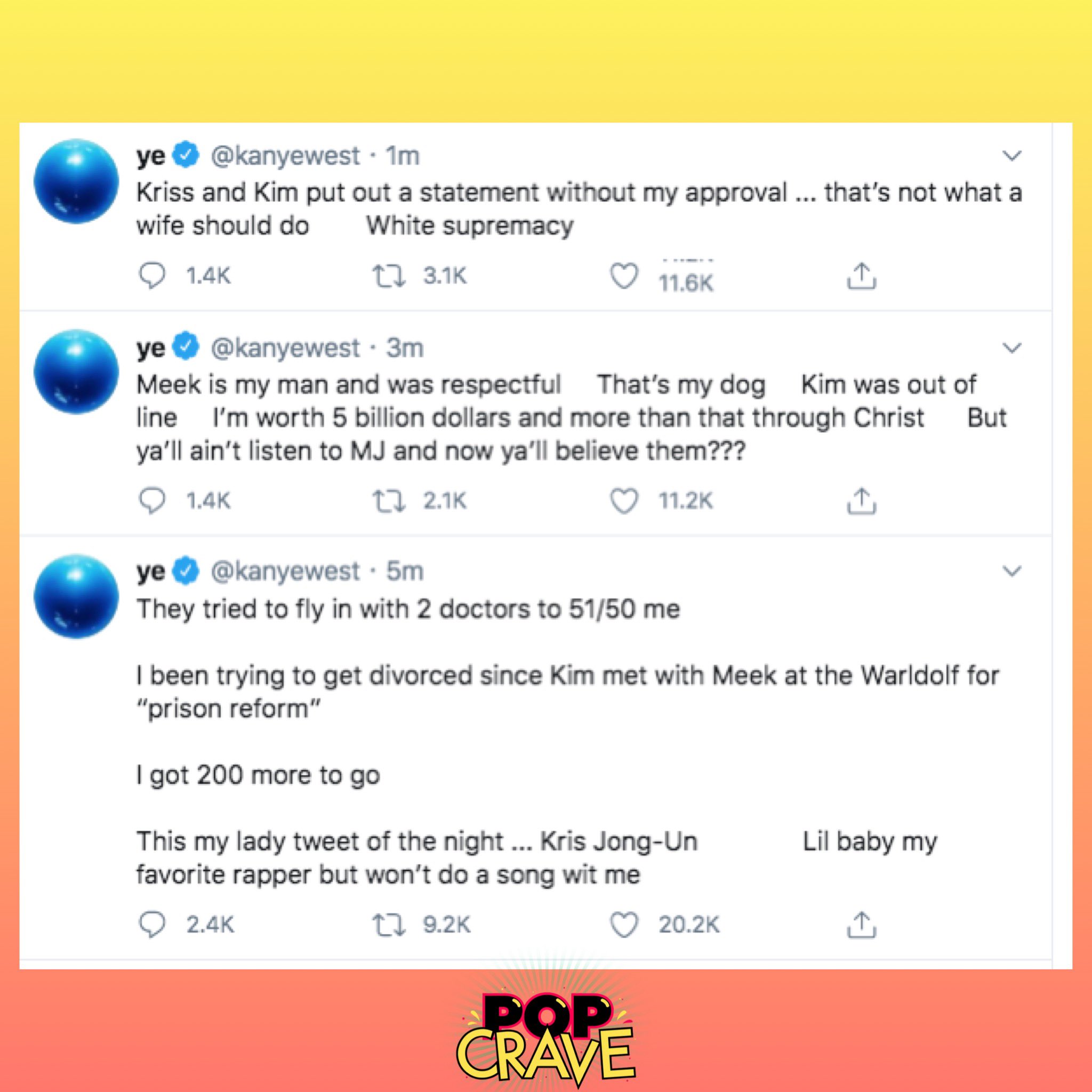 The tweets are the latest in a string of provocative (and sometimes nonsensical) comments Mr. West has made in recent days. They include a suggestion on Sunday that every woman who has a baby should be awarded $1 million. Among the statements are some baldly untrue claims. "Harriet Tubman never actually freed the slaves," West claimed on Sunday night. (She freed hundreds.) West also claimed that rapper Lil' Baby was his favorite rapper, but he "won't do a song with me". Lil' Baby responded by saying he had never heard of such a thing.
Today, Kim addressed the issue(s) head-on in a series of posts on Instagram Stories. "As many of you know, Kanye has bi-polar disorder," she wrote. "I've never spoken publicly about this because I am very protective of our children and Kanye's right to privacy when it comes to his health. But today, I feel like I should comment on it because of the stigma and misconceptions about mental health."
"Those who understand mental illness or even compulsive behavior know that the family is powerless unless the member is a minor," she continued. "People who are unaware or far removed from this experience can be judgmental and not understand that the individual[s] themselves have to engage in the process of getting help, no matter how hard family and friends try."
"I understand Kanye is subject to criticism because he is a public figure," she wrote, adding that West can be polarizing. But she also painted a nuanced, loving picture of a man in pain: "He is a brilliant but complicated person who, on top of the pressures of being an artist and a black man, [also] experienced the painful loss of his mother, and has to deal with the pressure and isolation that [are] heightened by his bi-polar disorder."
"
"I kindly ask that the media and public give us the compassion and empathy that is needed so that we can get through this," she added.
The Wests have been married since May 2014 and have four children: North, 7, Saint, 4, Chicago, 2, and Psalm, 14 months. But it appears that their six-year marriage is in serious trouble. Two sources contributed to People magazine's stunning report today about the state of their marriage. One source said that the two have been mulling a split "for several weeks", even before West's outburst on Sunday. A second source added: "There has been enough communication, both in the past few days and in the weeks prior, to establish that both sides feel the marriage is over."
UPDATE: People reported last week that the pair are doing well, quoting a source who said Kim is quietly supporting her husband: "She just wants to get through the next few months peacefully. She is kind of standing back while Kanye does whatever makes him happy."
While Mrs. West is freezing her Facebook & Instagram acccounts in protest of Facebook's practices, her husband is tweeting up a storm. Within an hour, Mr. West posted a video of himself urinating on a Grammy, tweeted out pages of his record contract, AND posted the phone number of a Forbes magazine editor whom he calls a "white supremacist". (Where was all this energy when his friend Donald Trump was defending white supremacists and Nazis as "very fine people"?)
The Forbes post violated Twitter's private information policy, which carries a first-time penalty of having to remove the tweet and having the user temporarily unable to tweet.