By Terrance Turner
Jan. 20, 2021
Today, in an inauguration unlike any other, Joseph R. Biden, Jr. was sworn in as the 46th President of the United States.
Sen. Amy Klobuchar served as an emcee of sorts. The morning featured a performance of the national anthem by Lady Gaga (who campaigned with Biden in Pennsylvania). Clad in a black turtleneck and dramatic red hoop skirt (with a voluminous train), Gaga delivered a masterful version of the anthem that was alternately operatic and soaring.
And then came one of the morning's most crucial moments. Kamala Harris was sworn in as the Vice President of the United States. Harris became the first female, first Black, and first Indian-American to become Vice President. She was sworn in by Supreme Court Justice Sonia Sotomayor — the first Latina on the Court.
As Vice President, Harris becomes president of the Senate. Her work begins today. This afternoon, she will be in the U.S. Capitol to execute her constitutional role and swear in three new Democratic senators: Jon Ossoff and Raphael Warnock, the two Democrats elected in a Georgia special election this month, and Alex Padilla, her own successor to the California seat she resigned on Monday. But this morning, she ascended to the second-highest office in the land.
Harris used two Bibles in the ceremony, according to NPR. The first belonged to Regina Shelton, a family friend whom Harris saw as a second mother. Harris used this Bible before when she took the oath of office as both California attorney general and U.S. senator. The second Bible was was owned by the late Justice Thurgood Marshall, the first Black member of the Supreme Court.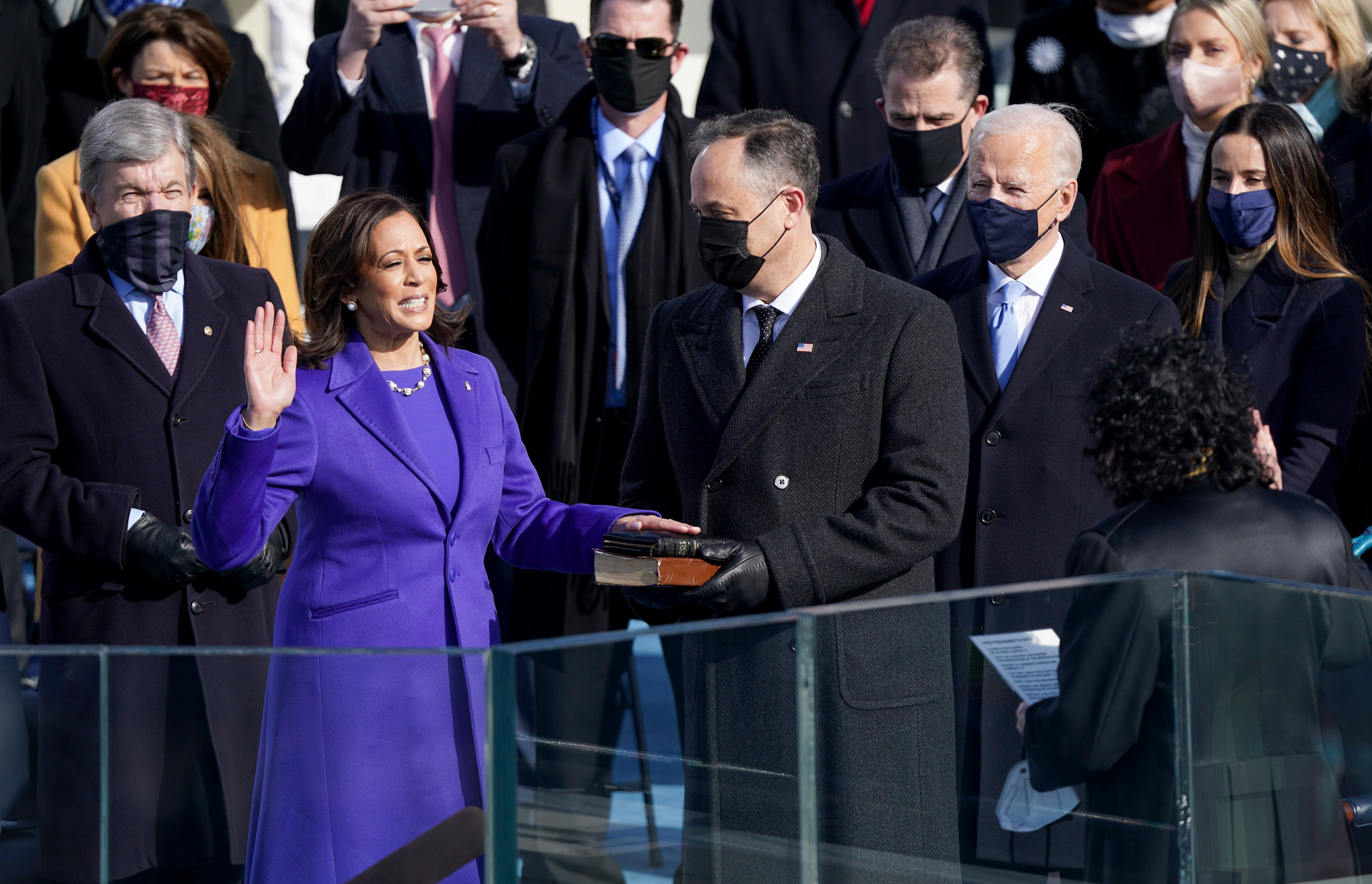 As NPR noted, the vice president's oath of office is slightly different from the president's. It's the oath typically taken by members of Congress. And it was that oath with which Vice President Kamala Harris sealed her place in American history.
"I, Kamala Devi Harris, do solemnly swear that I will support and defend the Constitution of the United States against all enemies, foreign and domestic; that I will bear true faith and allegiance to the same; that I take this obligation freely, without any mental reservation or purpose of evasion; and that I will well and faithfully discharge the duties of the office on which I am about to enter. So help me God."
Another performance followed, with Jennifer Lopez delivering a mellifluous medley of "This Land is Your Land" and "America the Beautiful". Growing increasingly impassioned after a gentle beginning, Lopez recited part of the Pledge of Allegiance in Spanish (!) towards the end. "Una nación, bajo Dios, indivisible, con libertad y justicia para todos!" she enthused, in a nod to her Puerto Rican roots. "One nation, under God, indivisible, with liberty and justice for all." Her all-white pantsuit ensemble drew praise from ABC commentator George Stephanopoulos.
Also making waves on the fashion front was country singer Garth Brooks. Mr. Brooks came down the stairs, arriving at this black-tie event in a cowboy hat, black suit jacket, and blue jeans. His inclusion came as a surprise, given his conservative country roots. But Brooks made his intentions clear days ago: "This is not a political statement. This is a statement of unity." And unite he did.
Removing his hat, Brooks sang a spellbinding a cappella version of "Amazing Grace". He asked the crowd outside and those at home to sing the final verse with him. His stunning performance was followed by an equally stunning move — a warm-hearted flouting of social distancing. Upon finishing the song, Brooks shook hands with Biden, former VP Mike Pence and Vice President Harris. Then, remarkably, Brooks — a Republican — ran over and hugged former President Barack Obama, former First Lady Michelle Obama, and the Clintons.
Afterward, Joe Biden took the presidential oath of office. Supreme Court Chief Justice John Roberts did the swearing-in. Biden placed his hand on a Bible that, according to the New York Times, has been in his family for 128 years. With his hand on that Bible and his wife by his side, Biden, 78, became the oldest president to take office.
Biden was sworn in with a 35-word oath of office at 11:49 am EST, just 11 minutes before the constitutional deadline at noon. He swore: "I, Joseph R. Robinette Biden Jr., do solemnly swear that I will faithfully execute the office of the President of the United States and will, to the best of my ability, preserve, protect and defend the Constitution of the United States. So help me God."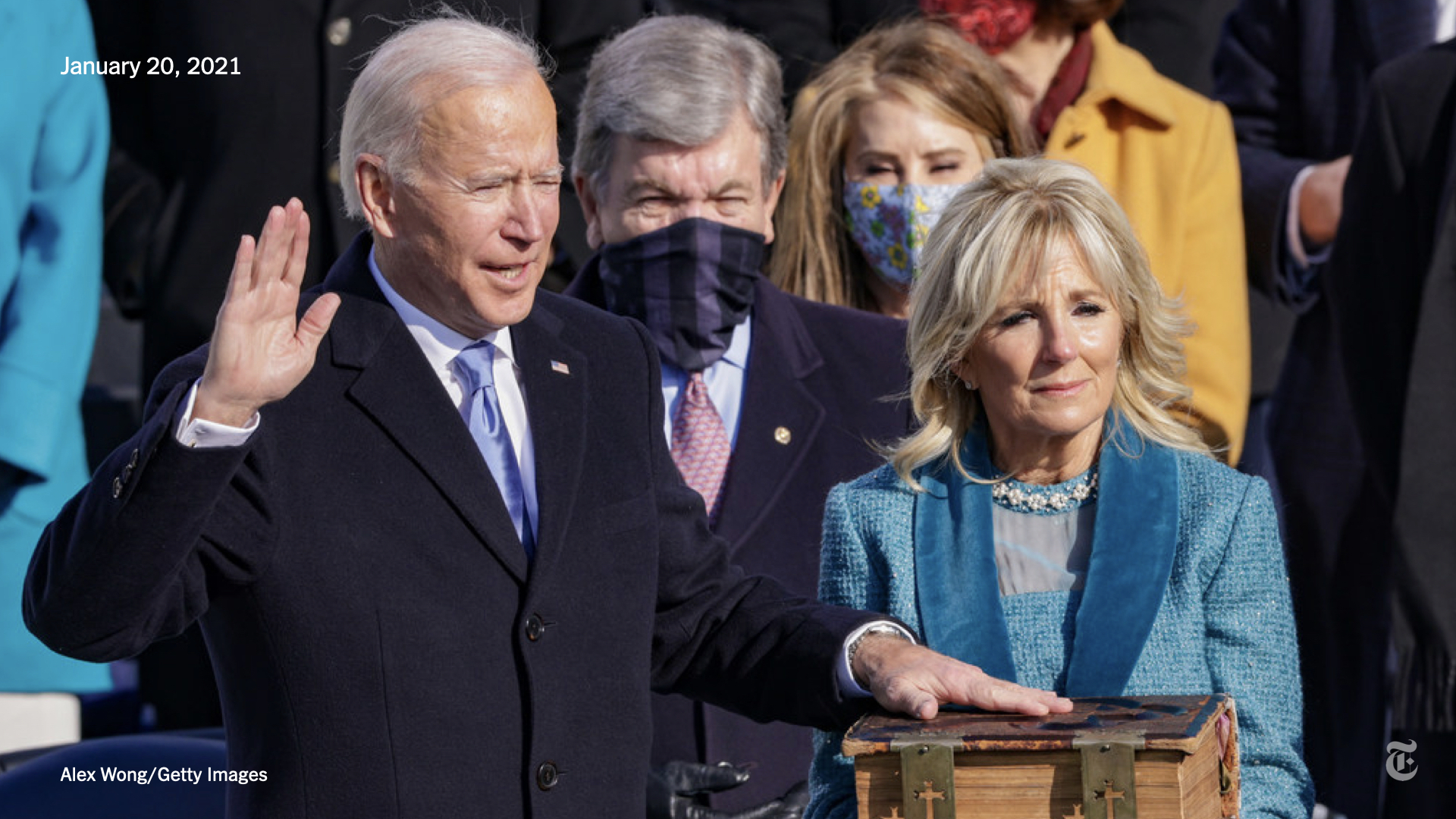 Shortly afterward, Biden delivered his inaugural address. It was a cogent, compelling call for unity and healing. "This is America's day," Biden began. "This is democracy's day. A day of history and hope, or renewal and resolve. Through a crucible for the ages, America has been tested anew, and America has risen to the challenge. Today, we celebrate the triumph not of a candidate, but of a cause: the cause of democracy.
The will of the people has been heard and the will of the people has been heeded. We have learned again that democracy is precious. Democracy is fragile. And at this hour, my friends, democracy has prevailed." The crowd broke into applause. Biden continued:
"So now, on this hallowed ground — where just days ago violence sought to shake this Capitol's very foundation — we come together as one nation, under God, indivisible, to carry out the peaceful transfer of power as we have for more than two centuries. We look ahead in our uniquely American way – restless, bold, optimistic – and set our sights on the nation we know we can be and we must be." Biden noted that "the American way depends not on any one of us, not on some of us, but on all of us. On 'We the People', who seek a more perfect union."
"This is a great nation and we are a good people," Biden stressed. "Over the centuries, through storm and strife, in peace and in war, we have come so far. But we still have far to go. We will press forward with speed and urgency, for we have much to do in this winter of peril and possibility.
Much to repair.
Much to restore.
Much to heal.
Much to build.
And much to gain.
"Few periods in our nation's history have been more challenging or difficult than the one we're in now," Biden went on. "A once-in-a-century virus silently stalks the country. It's taken as many lives in one year as America lost in all of World War II. Millions of jobs have been lost. Hundreds of thousands of businesses closed.
A cry for racial justice some 400 years in the making moves us. The dream of justice for all will be deferred no longer. A cry for survival comes from the planet itself. A cry that can't be any more desperate or any more clear. And now, a rise in political extremism, white supremacy, domestic terrorism, that we must confront and we will defeat."
"To overcome these challenges – to restore the soul and to secure the future of America – requires more than words. It requires that most elusive of things in a democracy: unity."
Unity.
It was the name of the game throughout Biden's address. "With unity we can do great things, Important things," he said. "We can right wrongs. We can put people to work in good jobs. We can teach our children in safe schools. We can overcome this deadly virus. We can reward work, rebuild the middle class, and make health care secure for all. We can deliver racial justice. We can make America, once again, the leading force for good in the world.
I know speaking of unity can sound to some like a foolish fantasy. I know the forces that divide us are deep and they are real. But I also know they are not new. Our history has been a constant struggle between the American ideal that we are all created equal and the harsh, ugly reality that racism, nativism, fear, and demonization have long torn us apart. The battle is perennial. Victory is never assured."
Biden continued: "We can see each other not as adversaries but as neighbors. We can treat each other with dignity and respect. We can join forces, stop the shouting, and lower the temperature. For without unity, there is no peace, only bitterness and fury. No progress, only exhausting outrage. No nation, only a state of chaos.
This is our historic moment of crisis and challenge, and unity is the path forward. And, we must meet this moment as the United States of America. If we do that, I guarantee you, we will not fail. We have never, ever, ever failed in America when we have acted together. And so today, at this time and in this place, let us start afresh. All of us.
Let us listen to one another. Hear one another. See one another. Show respect to one another. Politics need not be a raging fire destroying everything in its path. Every disagreement doesn't have to be a cause for total war. And, we must reject a culture in which facts themselves are manipulated and even manufactured. My fellow Americans, we have to be different than this. America has to be better than this.
And, I believe America is better than this.
To all those who did not support us, let me say this: Hear me out as we move forward. Take a measure of me and my heart. And if you still disagree, so be it. That's democracy. That's America. The right to dissent peaceably, within the guardrails of our Republic, is perhaps our nation's greatest strength."
"Yet hear me clearly," he said. "Disagreement must not lead to disunion."
"And I pledge this to you: I will be a President for all Americans."
"I understand that many Americans view the future with some fear and trepidation. I understand they worry about their jobs, about taking care of their families, about what comes next. I get it. But the answer is not to turn inward, to retreat into competing factions, distrusting those who don't look like you do, or worship the way you do, or don't get their news from the same sources you do.
We must end this uncivil war that pits red against blue, rural versus urban, conservative versus liberal. We can do this if we open our souls instead of hardening our hearts," Biden said. And in a moving display of his own heart, Biden's first act as president was asking Americans to join him in a moment of silence for the 400,000 Americans who have died from the coronavirus.
Those Americans were mothers and fathers, husbands and wives, sons and daughters, Biden reminded us. They were our neighbors, our friends, and our co-workers, he said. "We will honor them by becoming the people and nation we know we can and should be."
It was an elegant, eloquent speech; Chris Wallace (of Fox News!) said it was the best inaugural address he'd ever heard. But the day's most memorable moment belonged to 22-year-old Amanda Gorman.
Today, Gorman became the youngest person ever to deliver a poem at an inauguration. In a spellbinding speech that lasted nearly six minutes, she captivated the nation. She spoke of the need to both acknowledge the past and to repair it. She referenced the deadly Capitol riot that killed five people (at last count) and which symbolized an attack on democracy — in the very same area in which she and Biden spoke. In rhythmic, mesmeric, lyrical prose, she met the moment.
When day comes we ask ourselves,
where can we find light in this never-ending shade?
The loss we carry,
a sea we must wade
We've braved the belly of the beast
We've learned that quiet isn't always peace
And the norms and notions
of what just is
Isn't always just-ice.

And yet the dawn is ours
before we knew it
Somehow we do it
Somehow we've weathered and witnessed
a nation that isn't broken
but simply unfinished
We, the successors of a country and a time
Where a skinny Black girl
descended from slaves and raised by a single mother
can dream of becoming president —
only to find herself reciting for one.

[…]

We seek harm to none and harmony for all
Let the globe, if nothing else, say this is true:
That even as we grieved, we grew
That even as we hurt, we hoped
That even as we tired, we tried
That we'll forever be tied together, victorious
Not because we will never again know defeat
but because we will never again sow division
Scripture tells us to envision
that everyone shall sit under their own vine and fig tree
And no one shall make them afraid
If we're to live up to our own time
Then victory won't lie in the blade
But in all the bridges we've made
That is the promise to glade
The hill we climb,
If only we dare.
It's because being American is more than a pride we inherit,
it's the past we step into
and how we repair it
We've seen a force that would shatter our nation
rather than share it
Would destroy our country if it meant delaying democracy
And this effort very nearly succeeded
But while democracy can be periodically delayed,
it can never be permanently defeated.

"The Hill We Climb," by Amanda Gourmand