By Terrance Turner
Jan. 28, 2021
Legendary actress Cicely Tyson has died. She was 96.
Tyson's family announced the passing. "With a heavy heart, the family of Miss Cicely Tyson announces her peaceful transition this afternoon. At this time, please allow the family their privacy," they said, in a statement issued through Tyson's manager, Larry Thompson.
Just last Tuesday, Tyson filmed an emotional interview with journalist Gayle King. Just yesterday, Tyson appeared on CBS News, discussing her memoir Just As I Am — a 400-page chronicle of her remarkable life and career.
Born on Dec. 18, 1924 to immigrant parents from the West Indies, Tyson was born and raised in Harlem, New York. Her mother was a domestic worker; her father was a carpenter and painter. They separated when Tyson was 10. She was raised by her mother, a strict Christian who forbade movies or even dating, according to the New York Times.
Cicely Tyson soon became a mother herself. She became pregnant at 17 and had a baby girl. Tyson raised her daughter, whom she calls "Joan" in the book, entirely out of the spotlight; indeed, many readers may not know she had a child at all. But she describes her daughter's birth and upbringing (and the way her career affected Jane) in detail. Tyson said she and her daughter "continue to work on our relationship, as fragile as it is precious," and she dedicated the book to her: "the one who has paid the greatest price for this gift to all." According to the Washington Post, Tyson was forced to marry her child's father at 18; they divorced long before she found a job typing at the Red Cross.
Then, on a fateful day in 1954 during her lunch break, a "Black man decked out in a business suit and a scarlet bowtie tapped me on the shoulder." Struck by her beauty, he asked if she was a model. It was the kind of happenstance interaction anyone would likely write off as a weird New York City occurrence. But Tyson calls it a "love note from heaven." The inquiry jump started a new chapter in her life.
She became a model, appearing in Vogue and Harper's Bazaar. But she wanted to be an actress. Her mother wouldn't have it. She kicked Cicely out, citing concerns over a "casting couch". Nevertheless, she persisted. Tyson's first role was on NBC's "Frontiers of Faith" in 1951.
In 1961, Tyson appeared with James Earl Jones, Louis Gossett, Jr., and Maya Angelou in Jean Genet's play The Blacks. It became the longest-running off-Broadway play of the decade, running for 1,408 performances. Tyson's portrayal of Stephanie Virtue garnered the attention of actor George C. Scott. He suggested she play his assistant on the the gritty CBS drama East Side/West Side (1963-64). The Hollywood Reporter noted that this role "made her perhaps the first African-American actress to have a continuing role on a network series".
Throughout the 1960s, Tyson appeared in several films, including A Man Called Adam (1966), The Comedians (1967) and Carson McCullers' The Heart is a Lonely Hunter (1968). But the role she took four years later would change everything.
Tyson played Rebecca Morgan, a sharecropper's wife, in Martin Ritt's drama Sounder (1972). In the film, her husband (played by Paul Winfield) is imprisoned for stealing food for his children. Rebecca becomes head of household, cleaning houses, caring for children, and tilling fields. And when her husband returns, she greets him joyously, running down the road to embrace him.
Critics took notice. Rebecca was "the first great black heroine on screen," said film critic Pauline Kael. "She is visually extraordinary. Her cry as she runs down the road toward her husband, returning from prison, is a phenomenon—something even the most fabled actresses might not have dared."
For her performance in Sounder, Cicely Tyson was nominated for the Academy Award for Best Actress. She lost to Liza Minnelli, who won for Cabaret. But Tyson nonetheless made history. For the first time, three Black actors were nominated for Oscars in leading roles. (Winfield was nominated Best Actor for Sounder. Also nominated for Best Actress: Diana Ross, for Lady Sings the Blues.)
Tyson later said that Sounder changed her approach to acting. A white journalist interviewed her for a story and said he was "uncomfortable" when one of the children called Winfield "Daddy" in the film. Tyson later recalled the moment in an interview with Gayle King. "I said, 'Do you have children? What do they call you?' He said, 'They call me Daddy,'" Tyson remembered. "And I thought, 'My God. This man is thinking that we're not human beings.' And I made up my mind that I could not afford the luxury of just being an actress."
Tyson decided she would only take roles that conveyed the dignity and humanity of Black people. It would be her platform. "I saw that I could not afford the luxury of just being an actress. So I made the choice to use my career as a platform to address the issues of the race I was born into," Tyson told The New York Times in 2013.
Tyson's next part would take her to even greater heights. At 50, she took on the greatest role of her career — in the CBS telefilm The Autobiography of Miss Jane Pittman (1974). Tyson played the title role: a woman who was born before the Civil War, witnesses its ravages, and lives to see the unrest of the civil rights movement. Then, a century old, she defies segregation by sipping from a "Whites Only" water fountain.
The role required Tyson to range from ages 23 to 110. She spent six hours in the makeup chair to age convincingly, per Newsday. She visited nursing homes to study the halting speech and shaking hands typical of old age. The work and preparation paid off: Tyson drew raves for her performance. The New York Times wrote that Tyson "absorbs herself completely into Miss Jane, in the process creating a marvelous blend of sly humor, shrewd perceptions and innate dignity. Following the film 'Sounder', 'The Autobiography of Miss Jane Pittman' firmly establishes Cicely Tyson as a major American actress."
Tyson became the first African-American to win a lead actress Emmy Award when she was recognized for her astonishing performance. She won Best Actress in a Special and, in a fitting tribute, Actress of the Year.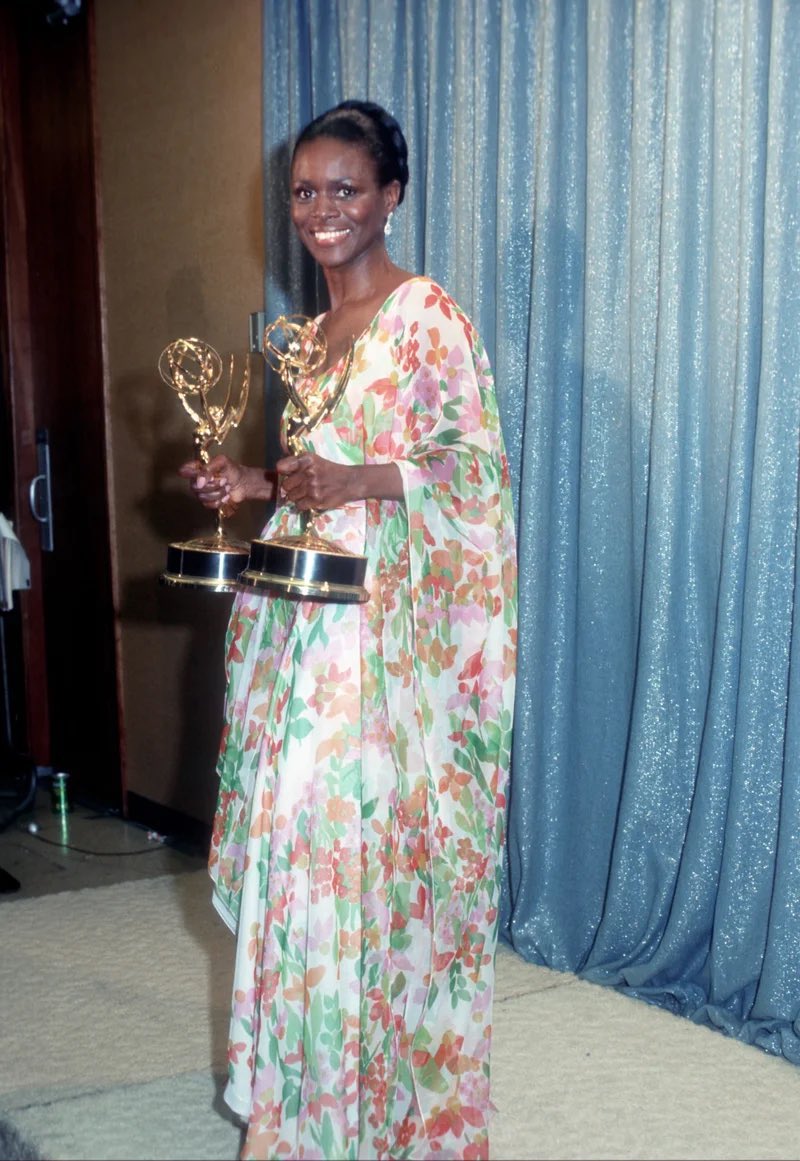 "I was madly in love with Jane Pittman. She was so fabulous," Tyson later recalled.
But Tyson was also madly in love with a legendary man. For over two decades, she had a passionate but tempestuous relationship with iconic jazz trumpeter Miles Davis. It was a relationship marked by anger, violence, and philandering — but also deep truth and tenderness.
In her memoir, Tyson wrote that their conversations were "rippled with honesty, with depth of understanding. There is a love that gently guides your palm toward the small of another's back, a care that leads you to ensure no harm ever comes to that person. From the beginning, that is the love I had for Miles. That is the soft place where our connection rested its head."
The two met in 1965, according to USA Today. They were on and off for nearly two decades before reuniting in their fifties. They married on Thanksgiving Day 1981.
Tyson nursed Davis back to health after years of drug abuse that took a toll on his health. But Davis continued to struggle with addiction. His behavior was unpredictable; his temper was volatile. In her memoir, Tyson writes that Davis was unfaithful and even abusive. In a revealing interview with the New York Times, Tyson revealed that Davis once punched her in the chest after a minor misunderstanding. The transcript of the conversation is replicated, in part, below:
NYT: You dropped a knife on the floor.
Tyson: Yes, and he thought I threw the knife on the floor because of something he said. I hadn't even been listening to what he was saying. And he came to me, yes he did, and he punched me in the chest. That's the only time he ever struck me […]
People don't behave in that way for no reason. It comes from something or someplace. And nine times out of 10, it's because they have been deeply hurt. The way people would refer to Miles, 'He's bad, he's this, he does that' — not in a vacuum, he doesn't. Nine times out of 10, the abuse came out when he was under the influence of the drugs, of the alcohol."
But drugs were really but one of the couple's problems. Davis' mercurial temper accompanied a wandering eye. It was the cheating that ultimately drove them apart. The Los Angeles Times reports that Tyson left Davis in late 1987, after she found out about another affair. Their marriage unofficially ended at the door to their Upper West Side apartment; Davis tried to stop Tyson from leaving and she grabbed him by the back of his hair, she writes. "By the time he struggled free, I was holding a whole bushel of his weave in my right hand. I hurled it to the ground, marched out the door and slammed it shut." The divorce was finalized in 1989.
Two years later, Davis was dead, ravaged by organ failures due to his addiction. In the end, Davis felt remorse for his behavior and made amends. Perhaps that's why Tyson remembered him fondly and with compassion. She told the Times: "I got to know the soul of a man who is as gentle as a lamb. He covered it up with this ruthless attitude because he was so shy. And in trying to be the kind of tough person that people thought he was, he ruined his life. Yes, gentle as a lamb, you hear me? That's the Miles Davis I knew.
When he was dying, a friend of mine went to the hospital to see him, and he was trying to tell her something. But he had had surgery, and she couldn't understand what he was trying to say to her. The nurse came in and said to my friend, 'Why don't you go for a walk and come back in about 45 minutes, and he will be able to talk to you.' So she went for a walk. And she came back to the hospital, and he was able to talk loudly enough to tell her this: 'Tell Cicely I'm sorry. Tell her I'm very, very sorry.'
"Basically, it was complicated," she said. "But a love story nonetheless."
Their complicated history may explain why Tyson was often reticent to speak about him. She initially stonewalled CNN's Don Lemon when he asked if Davis was the love of her life. But now, we have an answer. "I was in love with him," she told Gayle King.