By Terrance Turner
Feb. 21, 2021
This content is for mature audiences.
"What is your definition of a 'freak hoe'?"
"Have you ever engaged in any freak hoe activity?"
"Wouldn't you like to know, Mr. Producer."
So begins tonight's episode of The Real Housewives of Atlanta, with cast member Kenya Moore lighting cigarettes and dressed in a sleeveless white dress — in homage to the hit film Basic Instinct (1992). Tonight, cast member Cynthia Bailey celebrated her bachelorette party, ahead of her wedding to longtime love and FOX host Mike Hill. But things got a little out of hand at the party.
Masquerade Party
Kandi Burruss-Tucker threw a dungeon-themed bachelorette party for Bailey, with all the women dressing up in lingerie and affecting "alter egos" consistent with light BDSM vibes. Kenya Moore went by "Chocolate"; Cynthia went by "50 Cynt", the nickname she created after she turned 50. (Cynthia turns 54 this year, although you'd never know it by looking at her).
Kandi is "Mistress Angel", setting the rules for the party. "The dungeon is a judgement-free zone," Kandi tells the girls. "So if you came to judge, take your ass home." Sexual liberation is the theme of the night.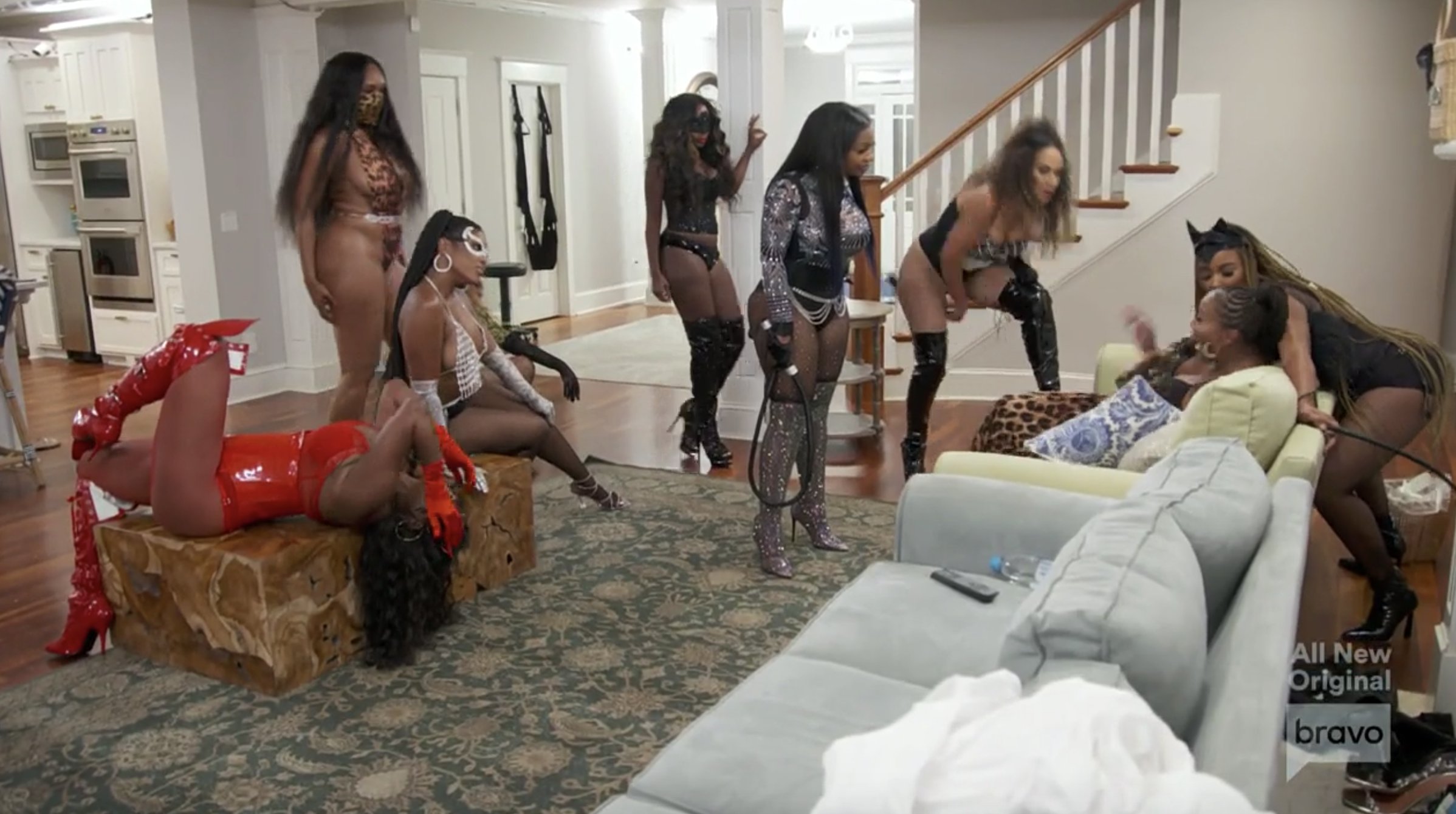 "I am a teacher of sorts," Kandi explains in a confessional interview. "I teach people how to not give a f–k. Own who you are, and have a good-ass time."
That's exactly the vibe we get when we see Kandi and Porsha Williams — once fierce combatants — laughing and talking about the party in an earlier scene. Kandi points out that Porsha doesn't have a mask, only a face shield. "No, I'mma be unprotected," Porsha laughs. "I want it raw."
Indeed. The party is a celebration of raw sexuality, planned without Bailey's knowledge. Kandi arranges the party festivities with the other women, while Cynthia has no idea what's in store for her. "She's totally clueless — which, to be honest, isn't really anything new," Kandi comments in a confessional.
But Cynthia soon finds out. Kandi gives her a scandalous outfit, complete with vibrating panties, and gives the women $4000 in $1 bills to spend on the exotic dancer who arrived at the party. He is none other than the infamous Bolo the Entertainer — a gorgeous, muscular stripper with pillow-soft lips.
He's inside a glass box, clad in what Marlo Hampton claims is "fake Chanel". (But that statement rings very hollow coming from a woman whose real job is still unclear after 10 years on reality TV.)
The women go inside. Bolo later joins them, performing a sexy striptease for the ladies that includes somersaults and indecent exposure. Kandi shows Cynthia a sex swing, which she apparently intends to give her as a wedding gift. (Cynthia is caught off guard, to say the least.) Bolo finishes his routine and exits the room, but Kenya demands he return. Porsha goes to a room to recruit Bolo. He asks if the crew are still filming.
The camera crew agree to wrap filming. They leave. The cast members (including Porsha) cover up the remaining cameras.
"One of you bitches is eating me out tonight," Porsha says. But according to Kenya, the story goes further than that. "I heard sexy music, so I come downstairs," she recalls. Latoya was straddling Porsha, "and they were making out and grinding", Kenya reveals.
A conversation takes place between Bailey and Bolo. "Congratulations, bride-to-be," Bolo tells Cynthia. (It's a conversation that takes place off-camera.) Apparently, Bolo was having conversations with more than just Cynthia. A couple more of the women join him for a "group hug", Bolo says.
In another off-camera conversation — only the audio is captured — Bolo invites interactions with a lewd come-on: "As long as I got a face, you always got somewhere to sit."
"Oh, my God," Bolo moans on the videotaped audio. He doesn't leave until 7:06 AM, according to the Bravo timestamps and footage. Cast member LaToya Ali later reveals she didn't go to bed until the sun came up. So what actually went down that night?
Unsolved Mysteries
" A lot of things happened throughout the night," Kandi says in her interview. But she doesn't provide many details. The other girls do. The next morning, the women commiserate on the events of the night before. Cynthia and Drew try to piece together what happened that night. Cynthia is asked whether she plans to tell her fiancé Mike what happened. She says she will — but she wants to tell him in person.
""I saw Toya on top of Porsha, grinding and kissing," Kenya says. "And then, Tanya was on top of Toya," Cynthia adds. "Like, they could've been kissing. A t—y fell in somebody mouth…"
"It was chill…and then it just kept escalating and escalating," Kenya remembers. "It was some breasts out, and it was some Bolo."
"Wait. What?" Cynthia asks, in disbelief.
"They heads was disappeared," Kenya answers. In a later scene, she remarks that castmate Drew Sidora surprised her with her level of commitment to the shenanigans. "Drew — I was totally shocked," she later comments.
Taken aback, Cynthia asks, "What was Drew doing?"
"What wasn't she doing?" Kenya asks. She takes it upon herself to launch an investigation into the events of the night before. "I wanna know whose p—y got murdered in these sheets."
While some of the girls (including Cynthia and Kenya) stay at home, a group involving Kandi, Marlo and Porsha go out to fish. A terrifying moment occurs when Marlo inadvertently catches a shark! Thankfully, the fisherman on site is able to cut the line. The girls discuss the outstanding issues between Kenya and Marlo, who have tangled numerous times over the years. But in the end, Marlo and Kenya appear to have resolved any lingering disagreements in their "friendship". (For now.)
The women return to the house to find that no food has been cooked while they were gone. Instead of preparing food, Kenya (the "host") has prepared to open deliberations in "Bolo Court". Kandi pointedly asks if any dinner was made. Cynthia responds: "Kandi's hungry. It's about to go left." And it will — once the truth finally comes out.